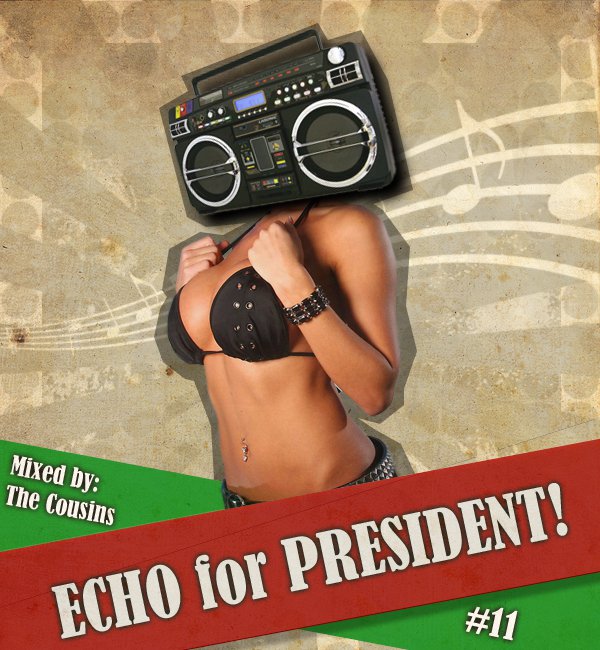 Yo! The next episode of the "ECHO for PRESIDENT!" has been ready to blows up your mind with the finest Electro-House tracks in a massive mixtape by The Cousins.
Hans Ott
and
Lode Windey
are the two pioneers behind
The Cousins
.
1) Hello The Cousins, would you mind introducing yourselves?
Well we are The Cousins, A dj'n and producing duo from Stekene.
Now where the hell is Stekene situated?
Well it's a town in belgium. Our names are
Hans Ott
&
Lode Windey
.
2) When did you guys start making music together?
In the begin Hans was started to DJ with virtual DJ. Since then he's music passion just keeps growing.
Then at a party, Hans was watching at a DJ contest with his cousin Lode. Then they decided to become a dj team, The Cousins was born.
3) Which are your favorite styles?
The genre we love the most is Electro-house.
Because we love heavy basslines and nice melodies.
4) Who's your favorite new artists?
Mord Fustang, We discovered him ages ago and now his in the top 10 on beatport.
Isn't that wicked ?
5) What kind of equipment do you use for mixing and producing?
We now are using traktor DJ software, but we're looking for CDJ's because we don't like DJ'n with laptop anymore...
It's good to start though. For producing we use FL studio, it's simpel to use.
6) What kind of music softwares do you prefer to use?
FL studio is the DAW of choice.
7) Please introduce your mixtape, what we are going to listen?
Be prepared, you desk will maybe vibrate so hard that your speaker fall on the ground, if they can handle it atleast.
It's only electro-house, we selected the most beautifully produced tracks in this genre we could find.
8) You have some own track and remix on soundcloud, tell Us about them, and which is your favourite?
We make Electro tracks with influences from other genres like fidget, rock, dubstep and so on.
Currenlty our remix of big bass drum is doing really good. Even Tai liked it! So that's our favourite. Our best original is Day down.
9) If it's not secret please tell us about your plans for the future.
Well we are planning to release our first album in 2012.
10) If you do not work on music, what do you do?
Hans
: My hobby is producing and dj'n, I don't do anything different.. :P
Lode
: Working... -.-
11) What do you think about the "ECHO For PRESiDENT" project, and the ECHO blog?
It's just amazing, you give dj's and producers the support they need.
12) Anything what I forgot to ask or you want to say to all your fans on The ECHO Show?
Thank you for asking us. And sorry for our bad english :D
We hope u enjoy !
The Cousins "ECHO for PRESIDENT!" #11 mixtape
DOWNLOAD
Tracklist.:
1.Hold your breath (Original Mix) - Gorillas on the drums
2.Start the party (Original Mix) - Far Too Loud
3.milky way (Original Mix) - Mord fustang
4.Dataloss( Darth & Vader remix) - freefire
5.Call my name (Spencer & Hill Remix) - Nadia Ali
6.Go electro (Original Mix) - Cool project
7.Feel your soul (Original Mix) - Alex Kidd
8.Desperate Girls & Stupid Boys (Lucky Date Remix) - Kimberly Caldwell
9.Housebeat(Original Mix) - Spencer & Hill
10. MC can kiss (Far To Loud Refix) - Uffie
11.I-tune(Original Mix) - Miles Dyson
12.Take some time (Original Mix) - Chrizz Luvly
The Cousins on Soundcloud !
The Cousins on Facebook !