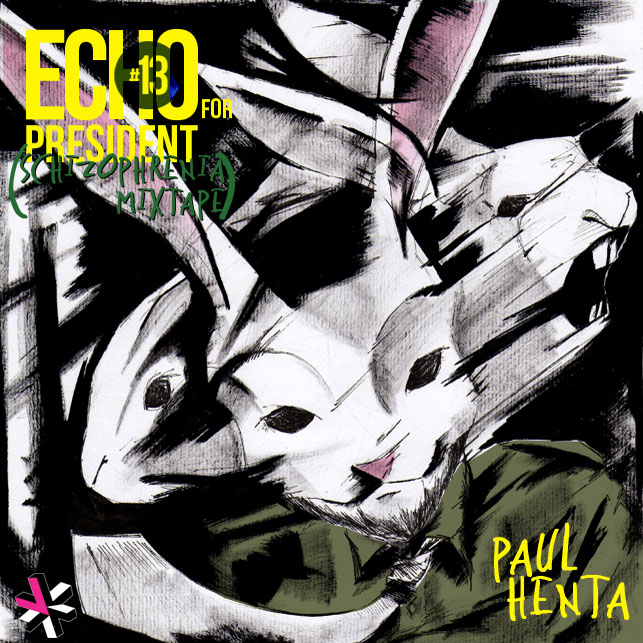 After Easter acutally ECHO brings a bunny for you ! He comes from Argentina and want to blow up your mind with an excellent mixtape full of great and exclusive tracks !
One hour madness rush, are your ready for this???
1) Hi Paul Henta, would you mind introducing yourself?
I´m
Patricio Corbal
, 30 years old, from La Plata, Argentina. I´m a electro music lover.
2) How long are you doing Paul Henta?
About 3 years ago when I put on my bunny mask jaja
3) Which are your favorite styles?
My favourite style in the electronic music is the nu rave, maximal, death electro, there are so many categories,
it's difficult put me in one, but if you listen my mixtape you'll know what I'm talking about.
4) Who's your favorite new artists? What are you listening to lately?
I have a lot of favourite artists, to name someone,
Wasa3i
,
Silent H!
,
Justrock
,
Mr. Skeleton
,
Beef Theatre
,
GSUS!
Also I can't stop listening
The Bloody Beetroots
(BIG UP!!),
Zombie Kids
,
Cyberpunkers
and more!
5) What kind of equipments/softwares do you use for making mixtapes or livesets?
I use my PC with Traktor Pro, Audio Kontrol 1 and Nano korg kontroller for live mixing.
I'm also taking my first steps in production with Ableton Live.
6) Tell us about your partyes, and your next events.
Our parties are one of the productions of La Vecindad Del Electro. It´s Producer/Agency that we've been working since 2008 and it's conformed for many artists of many subjets like, design, ambient, visual, musical. Our products are orientated to the mix of all of that. But instead of all we're a group of friends who in a professional way and without lose of mind our principal idea, who is make something who entertain us and entertain other else, we'll keep going on, creating spaces. Our next party is next friday and we have another on May.
7) I saw some pictures about your partyes and when you play you wore a mask. Please, tell us about this, what's that?
The mask appear for a costume party. We were three friends wearing suit and bunny masks. Then, when I decided to became a DJ , I started to wear that costume and since that day I use the mask. However makes me sweat so a I use it sometimes.
8) And you have duo project called Hentiere. What means it, and what kind of styles include this project?
Hentiere born when I met, randomly or destined, "my brother". After I invited him to play in a party, he (lumiere electronique) and I realized that without known each other, we could understand us, and we feel the same love and energy for about music. Hentiere was an spontaneous consequence of meet each other. In our preformances, we do variations but always is a very powerfull sound, mixed by electro, electro rock, techno and what happens in the moment.
9) If it's not secret please say some words about your plans for the future.
My plans are start to produce, slowly, but in conscience about what I want to do; keep going with the growing of La Vecindad Del Electro, creating new spaces, new parties, new products and open more the horizons, also virtuals, like our page
www.vecindaddelelectro.com
10) If you do not work on music, what do you do?
I'm an antropologist and I'm glad about I can work of my profession. As I said usually, "I'm and antropologist at day, Dj at night"
11) Please introduce your mixtape, what we are going to listen?
Is an explosion...It's a powerfull mixtape, what makes your ears bleed, but, definitly it's a representation about what I feel about electronic music: It's a 100% rock attitude!
12) What do you think about the "ECHO For PRESiDENT" project, and the ECHO blog?
First of all, I´m so fucking excited of been part of this… ECHO blog it's an inexhaustible resources of music knowledge, at least for me, from Argentina, I've known a lot of artist because of the blog. And ECHO for PRESIDENT it's a section who gives the space y mix lots and different artists, and
I feel so identified with the concept behind this, because I'm trying to do the same in our web page. And of course I'm thankfull to Miklós for the invitation to be part of this section of your blog.
13) Anything what I forgot to ask or you want to say to all your fans on The ECHO Show?
Since I found this blog, and met many artists who mixed a hard electro style , "I didn't feel so lonley in the world anymore" jaja.
At least, simply say thanks to Miklós about the space, I hope you enjoy it, and If not, please let me know. And to end: We have to keep "FIGHTING FOR THE ELECTRO".
Paul Henta "ECHO for PRESIDENT!" #13 mixtape
Tracklist.:
01. Malcolm Funktion - Irie (Original Mix)
02. Aerotronic - Vertigo (Gooseflesh Egypt Baazar Remix)
03. The Blisters Boyz - Be Sexy C'Est Français
04. T. Raumschmiere - Entertain Me (Pro7 Remix)
05. Pelussje - Frogsplash (Beatron! Remix)**[Exclusive]
06. Yars Revenge & The GangBang Theory - Night Death (The Phat Crew Remix)
07. GSUS! - Popsicles (Original Mix)**[Promo]
08. Silent H! – Megatron
09. You Killing Me - Hey! (WASA3I remix)**[Exclusive]
10. Justrock - Vendetta (Original Mix)**[Exclusive]
11. Mr. Skeleton & B.h(a)ve - Radio Ol T.V. (Original Mix)
12. Rage against the Machine - Testify (Beef Theatre RMX)
13. Barretso - Chase (Spunker Remix)**[Exclusive]
14. We Love Machines - Machine Love
15. The Zombie Kids feat Moi - L'Ecole
16. Korn - Fuck that (Maurice BLKSQR RMX)
17. Cyberpunkers – Fuck The System (Designer Drugs Remix)
18. Hervé vs Metallica - Enter Sandman
Paul Henta on Facebook !
Paul Henta on Soundcloud !
Paul Henta on Myspace !
Paul Henta on Offical Web !